Can you start a Podcast with No Audience? Well, the answer depends on how likely you are motivated to create new episodes even if nobody knows about your show.
And if you do so, Then the answer is very simple, And,
To make it easy to follow, I divided the process into just 4 key Steps as follows,
Brainstorming, Gathering required equipment and Software, Start Creating the Episodes, and lastly Promoting your podcast. That's it, Done.
I just gave the million dollars Podcasting Idea, so what are you waiting for,
But, if you are still not satisfied with the above Five lines, then you will have to read the whole article to get the real value.
Let's Start,
In a Hurry, Follow these Steps
Now you know how to start a Podcast with No Audience, By the way, that is a quick bite about how to get into it.
So, the question is,
Can you start a Podcast with NO Audience?
And, the answer is Why Not.
You only need to follow the right steps (below in this guide) and be aware of the power of consistency.
But it's tough, getting your podcast to succeed without any existing audience is not easy, you have a hard time shaping your audience.
Yeah, because the biggest challenge in podcasting is building an audience (60% of podcasters report this) but this can be overtaken because the audience is growing at rapid speed (in the past 3 years listeners in the U.S. grew by 20%, from 82 million in 2021 to reach more than 100 million by 2024) and you can also take benefit of this.
So, in this guide, I will share the easiest way to get started with it and grow it to hundreds of thousands of listeners.
BRAINSTORMING THE PODCASTING IDEAS
This is the first part where I will cover the first step to getting your idea in the real world. And yeah this is the most crucial stage because in this stage you have to build your whole Base on which your further podcasting journey will stand on.
So keep calm and think of all your past memories and let's start by asking yourself a Question.
1. Why are you Starting the Podcast?
Yeah, Why are you Starting the Podcast when there are already a lot of great money-making opportunities out there such as Starting a Blog or Youtube Channel, Becoming a Social Media Influencer, Launching a Dropshipping Store, and So?
Folks, You might be like, I already have a Blog or a Dropshipping Store, then What?
But as you ask this Question you start getting the answers right away in your mind. And the answers are so periodic, like for growing your followers, making a new income stream, or Building your Brand or Strentghing its Authority, and so.
And this is what you need, A Solid Reason behind the intention, because if you do not have any focused Goal about what you are doing then you are not going to get any measurable results.
So, first ask the Question, that Starts with WHY, because Why gives you the reason, and this is what Simon Sinek teaches in his book "Start With Why", and then start the action.
2. Choose a Perfect Podcast Topic.
Now the first key step is choosing a Topic/Niche for your Podcast. So how do you do that, well the answer depends on some factors like What Topic you have an interest in, What Topic you have some knowledge about, What topic you love to talk about, What are your Passion, and more?
So, exactly how would you choose your podcast topic, first, here is how you don't choose your Podcast Topic.
Don't go for those topics that you have zero knowledge of.
Don't choose the topic by seeing its popularity, or by others' success.
Don't jump into niches that you don't love to talk about.
Don't dive into wider niches, just like Marketing, instead go narrow like Social Media Marketing.
And, here are the things you need to do, to grab the perfect podcast topic.
First, Evaluate your areas of interest (like Playing Football, Watching Movies, Freelancing, and so.)
Go Narrow, because wider niches have more competition, and Narrow niches come with less competition and a targeted audience.
Let's look at your Target Audience, and the demand for the topic on which you are going to start the podcast.
Now, Look for any other successful Podcast relevant to your topic, because if no one is out there, then who's gonna care about you?
Let's look for the monetization option. Are there enough ways to make money out of your Podcast?
Now, let's finalize your topic by writing down the next 10 to 20 episode ideas to make sure you don't run out of ideas before it takes off.
3. Who is this Podcast For?
Now you have the reason and a perfect Niche, so this is the time to get to know your real listeners. Yeah, you need to identify your listeners, because until or unless you don't know who is your podcast for then how you are going to convert?
For instance, let's suppose you are going to create a Marketing show, then your ideal listeners would be anyone who is interested in SEO, Digital Marketing, Advertising, and So on (from the same or side-by-side niches), not any Fitness enthusiast.
So as you identify your ideal listeners or so-called Create Your listeners Avatar, you can now able to create more targeted and engaging podcasts that connect directly with your listeners. And yeah this will also help you better understand what your listeners think, feel, or wants.
And Parallelly this will help you grow faster because if you start engaging with your listeners then you automatically get more exposure. After all, they are more likely to share your podcasts or recommend others.
Now you are mentally prepared, so let's move to the next step,
4. Choose your Podcast Format.
I am already done, So, what exactly is it?
Here's what it means, What type of show you are creating, how long your Podcast should be, how often you are going to publish new shows, and so. Basically structuring your podcast in a mannered way is known as Podcast Formatting.
So, let's look at the three most common and popular Podcast Formats.
Solo Podcasts:
Just You and your Microphone, and yeah this is the most popular Podcast format (among newbies and beginners) and the easiest way to get started with Podcasting. You just need a good idea, some equipment, and Podcast hosting, and you are good to go.
So basically in this podcast format, you will talk directly with your audience. And the main benefit of doing this type of show is you don't need to rely on others to record your show, you can build deep relationships with your listeners, you are going to build authority in your topic, and yeah exclusivity.
Just like, "You Must Remember This" by Karina Longworth who is the former film critic for LA Weekly and also the founder of Cinematical.com, where she explores the unknown/forgotten history of Hollywood's Golden Age, Behind the scenes, a little talk about the Stars, and film scandals of the 20th century.
Interview Podcasts:
This is the most popular and most common type of podcast when comes to podcasting. Yeah because you get to talk to a new guest each week, or each episode maintains a perfect balance between Consistency and Uniqueness (Topics may vary based on the Guests).
And,
One of the best examples of an interview-based Podcast is "WTF with Marc Maron", where he invites celebrity guests from various professions including Directors, Musicians, Writers, Actors, and much more, all the way to his home to share meaningful and revealing conversations that people would hardly ever know.
Co-hosted Podcasts:
A Good Discussion, the Co-hosted format is also called a Conversational podcast where you and your co-host/hosts discuss a chosen topic throughout the show. It's like a regular discussion between two friends where one reads the news and the other comments on it.
For instance, Look at this Podcast named "Sci Guys" where Corry and Luke bring Weird and Wonderful stories from the science world packed with questions, jokes, and other extraordinary thinking.
Now, let's Name your Podcast
5. Naming your Podcast
This is not something I need to cover, but still covering it, so how do you give your podcast a nice Name?
Don't ignore it by giving just a random Name you think in your mind. Because this is the way people are going to know your podcast, so choose carefully.
Here are some points to keep in mind while naming your podcast.
Try to keep it short (three-four Words) and sweet.
Make sure it is easy to spell and pronounce.
Also, make sure that the name defines what your podcast is all about.
Don't copy from any other Brand or Show.
Now, speak your chosen Name Loudly, if it sounds good, move Ahead, if not you have to spend some more time on it.
Finally, the first part is over, and now you create a strong base for your Podcast.
So let's adjust our Studio.
GATHERING THE REQUIRED EQUIPMENT AND SOFTWARE
All right, we cover the first and the major part of this guide, so now we need to put all our equipment together to set up the studio (not literally).
(I am not going to dive deeper into this part because this article is for beginners and newbies, so assuming that there is no need for a fancy setup, I try to keep it super simple)
Look, the equipment or software I am going to recommend is not necessary at all, because some good Smartphones are capable of recording High-quality audio and yeah you can also use some applications to enhance your audio, and some will literally turn your smartphone into a Podcast recorder.
In mention, some Podcast hosting services also have in-built or in-app recording capabilities like Podbean and Soundcloud.
So if you don't have the budget to invest, then you are free to go, but if you can, then you must invest in at least one Microphone, Earphone, and good Podcast Recording and Editing Software (cover it later). Because these tools can enhance your Podcast further providing an unforgettable user experience.
So let's start with Microphones,
And yeah it's really important because if your podcast doesn't sound good, then no one gonna listen.
And when it comes to Microphones there are two major types,
USB Mics, Often recommended for beginners because they are easy to set up and just very affordable. You only need to purchase one and plug them into your computer's USB port and Done. Just like Blue Yeti, and Samson Q2U (both are just good).
XLR Mics, are also common among podcasters because of their quality, Durability, Power, and good recording capabilities. These mics can not be directly plugged into your computer instead you need an Audio interface to connect it, which is a kinda unwanted expense for beginners, but gives you premium sound quality and unwanted Noise Cancellation (ideal for podcasters who has a guest or any co-host). And in my opinion, the overall best XLR microphone is Rode PodMic.
But if you don't want to gutter between these options then you can go with Samson Technologies Q2U USB/XLR Dynamic Microphone, which comes with both USB cables and XLR cables.
Now, bring the Headphones
Headphones are important but not necessary, Microphones are enough to get started but if you want you can buy one, such as Audio Technica M20X which comes around $50 – $55 offering better Sound Quality, Noise Cancellation, and more comfort. And yeah it becomes so important if you don't want any echo or Audio Bleed in your podcast.
And Last, find a perfect Podcast Editing Software
Till now you have the Mics and Headphones, so now you need software to record and edit your audio, and yeah its really important, sooner or later you need to edit your episodes, either for adding intro and outro, or putting music in between, or often cutting some parts from your recordings.
So why not bring it right away with our other equipment, it's very helpful if you thinking of remote recording. However, there are lots of free and paid options out there offering simple recording and editing features (like Audacity, & GarageBand) to a full in-house Digital Audio Workstation (DAW) (like Adobe Audition, & Alitu).
But in my opinion, Audacity is the best and a good alternative to much premium Software offering pretty good features with a bit of a learning curve. But just in case you d want a better, enhanced, and more powerful editing tool then you can go with Adobe Audition, which costs just $20.99 per month.
Now you have your mini Podcast Setup, so let's move to our next and most practical part, which is Recording our First Episode
START RECORDING THE EPISODES
Let's Face it.
Now you have everything set up from your topic to your Microphone, and finally, you are ready to record, but wait, before you start speaking in the mic, prepare yourself, I mean create a structure of the show (create episode outline) aka, Scripting the show.
Yeah, it's important because how do you measure that you are on the right track, how do you know when to talk about the ads, when to speak about any Call to Action, how do you know when to end it, and so?
And for recording the Prefect Episode you need to outline or Script it, so you don't get off the track.
Create the outline
So, no matter how good you sound and how good your intro was, you need to create content that is on the point and in the direction of your topic so it is worth listening to. And yeah, you don't need to script the whole show word by word, instead just create the outline meaning where and what to talk about.
For eg. Start with an Intro, Welcome your guests, or if Solo then Introducing Yourself, Describe the Topic, Proper Hooks, Ad Spot, Main Talking Points, Transition, Call to Action, and some Closing Words.
So now you know how to create an outline, but this is not going to be perfect for each and every episode, instead, you have to do some brainstorming to create the outline. And for that, you need to Start with the End in Mind, What is the Purpose of the Episode, What the takeaways are, How it gonna Help Others, and so on.
And finally, you are ready to reccccooord.
Record the Intro and the Outro of your show
But there is one and last thing remaining to make your show looks good, and that is the Intro and the Outro of your show. These are something that represents your brand tone and make your podcasts more compelling and attractive to the listeners, which tends to engage people.
So, Now you know that having an intro and outro is good for your show, but how do you create one? And what is a good Intro and Outro looks like?
Let's discuss them one by one.
A good podcast intro is something that covers the entire podcast values in short term, just like a reminder (what is it, what it's all about, What value you will get after listening to this, and so on).
And, yeah your intro has to be perfect because the beginning of a podcast is super important, and why it's important is shocking. In one data study, NPR's Nick DePrey found that a typical podcast episode loses 20-35 percent of its audience in its first five minutes. That's why having a catchy intro is essential that captures your listener's attention from the start.
And, For creating a Perfect Podcast Intro you need to have these 4 must things included in your intro. Starting with A Perfect Intro Music, Explaining yourself to the listeners (e.g. who you are, what's your expertise), followed by the Episode Title and Tagline (aka, what your podcast is all about, and who is this podcast for), and last The benefits of listening to this podcast (what value it's going to add to the listener's life). But if you want you can also add a Call to Action, and A Disclaimer in your intro.
Now, For Outro, you don't need to do a whole bunch of things as for Intro, just add some music, A Thank You Message, and a task for what to do next with a Call to Action like Asking for a Follow-Up, Newsletter Signups, or leaving a review on whatever platform they are listening. That's it.
Now Find a quiet place and start recording,
Once you have created the Outline and recorded the Intro and the Outro, then start recording the episode, it's quite easier than you think. But first, take a look at your surrounding, is there anything that possibly makes noise, then if possible remove it or just stop it from making any noise.
Now, Adjust your systems and set the recording levels, once done, make a test recording to check everything is perfect, and if possible be consistent with your tone. You can also use different Microphone techniques to record high-quality audio in a single take.
This may help you record better podcasts but all over it, recording the first episode is the most intimate part of your whole podcast journey. But don't worry if it does not go the way you planned, just publish it.
Create your Podcast Cover Art
Once you record your first episode, then it's time to give it a finishing touch with cover art, which basically is an image that represents your whole podcast scenario. You can also say that your Cover Art is the first impression and is the very first thing a listener will notice when they discover your podcast within an app.
Look, this is not as critical as your Podcast Mic, but noteworthy, because according to data, almost 62% of new listeners who like your cover art are more likely to listen to your podcast.
Here are some best practices to follow,
Avoid filling up your cover art with Images and Texts.
Use colors that match your brand tone.
Your artwork should be a minimum of 1400 pixels by 1400 pixels, to a maximum of 3000 pixels by 3000 pixels, 72 dpi, and in appropriate formats (.jpg, .png)
Don't forget to optimize your images for mobile devices.
Avoid using hard-to-read fonts.
Here is something a good Podcast Cover Art looks like,
You can create your stunning podcast cover using Canva for Free, but if you are new to this, then first read this article about Designing a Stunning Podcast cover Art. And you can also use Templates (Canva, Adobe) to fasten up the process.
PUBLISH and PROMOTE YOUR PODCAST
Till Now, you have created and made your first episode ready for going public, but this is just half of your podcasting journey.
So, from here the main battle starts, How do you get people to find it, and how do you make it accessible to more and more people (aka, let the world know about your New Podcast)?
But before you market your podcast you need to host your podcast on a good Podcast Hosting Platform (to store your audio files online), so it becomes accessible to everyone. Basically, Podcast hosting offers more than just a digital space, it can ease your work like publishing your Podcasts on Podcast Directories, Providing Monetization Options, Detailed Analytics of your Listeners, and many more things.
So, its time to,
Get a Good Podcast Hosting Platform.
If you are a beginner, in fact almost all beginners think that they just need to get a Microphone, and a basic setup, record the episode, edit it, and upload them directly to the Podcast directories like Apple Podcast and Spotify.
No things don't work like that, you can't upload your audio files directly on Podcast directories, instead first, you need to publish your Audio Files on your podcast hosting platform, then you need to create an RSS feed, after then you need to submit your RSS feed to the podcast directories so the directory can verify your podcast and make it available to listen.
But if you don't want to do these on your own, then you only need to choose a good Podcast Hosting Platform compatible with all these major podcast directories to automate this submission and to do a lot more other things.
And for this, I recommend Captivate, and there are reasons behind it.
Captivate Features –
Captivate gives you Unlimited Storage, hosts Unlimited podcasts, and Add Unlimited Team Members.
Seamless integration with all the major podcast directories and all other Podcast apps.
Detailed and Advanced, IAB certified listeners Analytics.
Private Podcasting Made Easy.
Comes with a Sleek Embeddable Website, Social, and Playlist Player.
Automatic Podcast Website with responsive design that almost doesn't need any work from your side.
Easy Monetization Options
Industry-leading Growth and Marketing Tools.
Simple and Responsive Podcast Website
And Many-Many more such features.
But In case, if you are not satisfied with Captivate, then there are also other great options out there like, BuzzSprout, Podbean, Transistor, and many more which you can find out in my latest article about the Best Podcast Hosting Platforms.
Once you have published your episode to your hosting platform, then it's time to
Submit your podcast to all the major podcast directories,
So that listeners will discover your podcast, subscribe to it, and can download it.
This is literally a piece of cake, yeah, just create an RSS feed and submit that RSS feed to all the directories you want your podcast to be, that's it.
But don't worry if you are new to this, If you choose to go with Captivate, then your podcast submission is just a click away, just click on the "Submit to All" button and your podcast is submitted to all the one-click Submissions directories like Amazon Music, and Spotify.
But some directories like Apple Podcasts need some extra steps (verification) to get your show published on their platform.
And if you decide to go with any other host then the process is going to be the same, yeah because nowadays almost all of the popular Podcast hosting platforms have an auto-submit tool to make it easy to submit your podcast to all the major podcast directories like Amazon Music, Apple Podcast, Spotify, Stitcher, Soundcloud, and Youtube to name some.
Now move on to the most critical step of this whole article, Promote/Market your Podcast, to get people to know about Your New Podcast.
Market/Promote your Podcast
This is the real work, How do you get more and more people to know and listen to your Podcast, hence, for that here are some working tips you can follow to push your podcast towards success.
But first, you need to know who's your Target Audience and where they Hang out. After this, you need to create a plan on which you are going to work to grow your audience and increase the visibility of your podcast.
And for the plan, I mean strategies that work, though there are tons of strategies you get online but focus on what gives you the most result, so we pull out some best of it that works almost all of the time.
So, let's follow the list.
Publish Your Podcast to all Major Directories
I just covered this in the above paragraph, yeah I know, but this is something that actually helps your podcast to reach hundreds of thousands of potential listeners. Because people are not going to search for your Podcast on Youtube or Twitter, so for making your podcast more visible you need to publish it to as many directories as possible, but don't take it too seriously and tend to publish on every single directory out there.
Instead go after that, who actually has some user base and has the potential to get you some playtime.
Email Marketing is something you can Try
The most result-oriented way of promoting/marketing among all other digital marketing channels with an ROI of almost 3600% which means for every $1 you spend on email marketing you will get $36 in return, and that's awesome.
So, for this, you can either utilize your current Email list (if any), or you can start an Email Newsletter right away (Get started with Convertkit). By the way, this is once again the best way to promote your very new podcast, Like you can send a Newsletter about Your New Episodes, Ask them about the Next topic, or Share and Subscribe to your Podcast, Send a Newsletter about any New Announcement, and so.
And the best part is you can track the progress of your Newsletter, like, how many people have opened it, How many of them clicked on the link, and so.
Basically, all this is for keeping your audience engaged, and building up a community, so that you can give your next episode a boost at the beginning. This might look Old-fashioned but works really-really well and is still much relevant.
You can also Host a Giveaway
This is something that puts you in the limelight or you can say make you Viral. Yeah, at any moment you announce a giveaway you automatically start getting word-of-mouth marketing and this makes Giveaways a great tool for marketing.
So, This is something that doesn't require any creativity at all, yeah it's true, you just need to announce that you are going to give away free stuff like Merch, Discount Coupons, Amazon Gift vouchers, Stickers, Mention or Shoutout in your next episode, a guest spot in your next episode, or Free access to your Private Podcast and see how people going mad about your podcast.
Look people are obsessed with Free Stuff, and they just want to win. And here you can take benefit of this, "Just ask for a simple task to enter the Giveaway, like, Leave a Review on Spotify or Share your Podcast on their Social Media. This will get you more share leads in building Trust and Social Proof and Exposure to a new audience and hopefully gets new potential listeners as well.
Be a Guest and Invite a Guest to get more Exposure,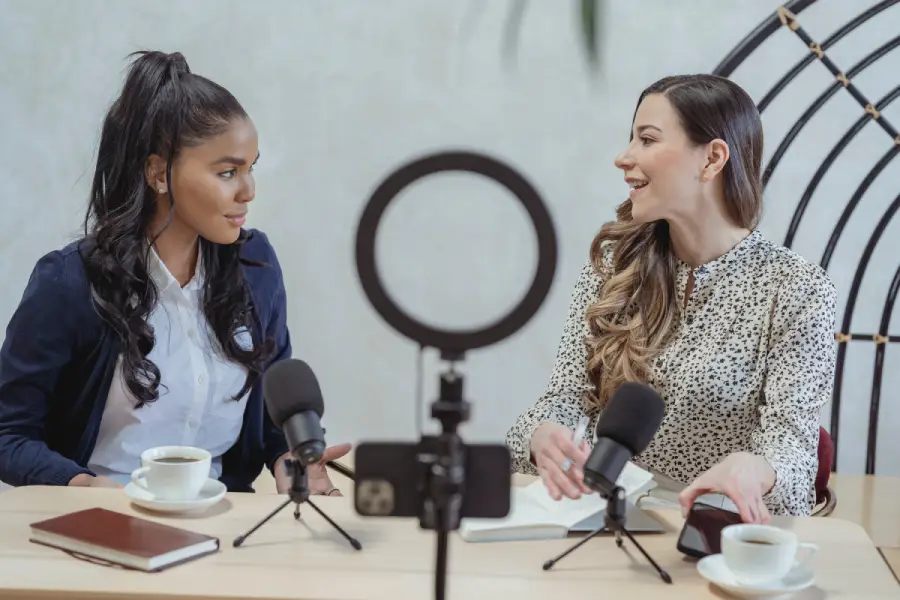 If you are serious about podcasting, you need to build relationships with other podcasters. It's something that boosts your credibility and gives you a chance to reach new audiences and build relations with other people.
This is a win-win situation for both, for instance, if you appear on someone's else Podcast you will get more exposure to a whole new audience increasing your chance of getting potential listeners and building relationships with other influential people, and for him, this not only builds trusts but also act as a social proof ending up getting exposure to a new audience if you share that episode with your audience.
Be Aware of the Power of Social Media
Social Media is one of the top Marketing destinations to date, and if you are ignoring it then this would be among your biggest mistake. And you don't need to pop into all the social media channels right away, first do some research and find the most relevant social media channels where your potential listener hangs out.
And, I also recommend going after only 2 to 3 social media channels because it isn't just creating an account, you also need to post customized content on a regular basis to keep your audience engaged. For instance, If you are posting on Instagram then short videos and meaningful images are going to be your weapon, but for Twitter, you need to be more careful with both Texts and images, in fact, texts are more dominant on Twitter.
Here are some working tips to follow,
Be Authentic and Human, because nobody including you going to follow any account whose posts are generated by any robot.
Consistency is the key to success, so don't wait to post until your new episode is ready, in fact, keep posting some clips, any takeaways, or impactful sentences from your podcast to keep your audience engaged.
Creating short and eye-catching worthy clips will increase your chance of getting more likes and shares on Social Media and also tends to attract listeners that prefer shorter clips over longer videos to get a sense of what your podcast is all about.
Creating audiograms also works great on social media, which includes an Image, Audio Track, Soundwave, and sometime Subtitles of your sound, and this is a great way of promoting a podcast in a visual way.
Engage with your Audience, because on social media people wants to connect with each other, and there are various ways to do this like, mentioning them in your tweets, creating a Poll to participate, and so.
Create Visually appealing Social Media Posts, so that users stop scrolling when your post appears, look at this marketing marvelous by Go Pro.
Advertisement is also a good way of Promoting your Podcast
This is something that really works very fast and pretty well, but it needs cash and if you have so then this is going to get you tons of potential listeners in the meantime without any effort.
So, how does it work?
Basically, this is a very straightforward way of promoting your podcast and presenting it in front of hundreds of thousands of potential listeners who are searching for queries related to your topic.
But first, you have to identify which platform is right for you (means where your potential listeners hang out) e.g. you can run social Media Ads on platforms like Instagram, Facebook, and Twitter or On Search Engines like Google, and Bing, or On Podcast apps like Overcast, Spotify, ListenNotes, and others.
And, why you first need to identify the right platform is because Social Media Apps like Twitter, Facebook, and Instagram offer Targeted Advertising which somehow good if your podcast is for people of that certain interest, age, or demographic.
And on the other hand Search Engines like Google show advertisements based on keyphrases which means if someone searches for queries related to your topic then you are going to appear at the top of every search result.
The last great option is to directly advertise on Podcast apps like Spotify and Overcast, which is kinda too much specific because people who use these apps are going to see your podcast.
Now, it's your choice but be careful of selecting the right platform because if you don't you are going to waste a lot of money on advertising in return for Nothing.
Leverage your Current and Existing Audience.
Look, family and friends are the first customers of any business and this also works in podcasting. And if you are struggling of getting your podcast some reach, then you serenely need to reach out to your family members and friends.
But this is not just limited to your friends and family members, you can also reach out to your colleagues, neighbors, and anyone else who you know and ask them to listen and share with their known ones.
Yeah I know this is not going to make your show popular but at least in the beginning, it gives your podcast a boost or early traction in the form of views, likes, shares, and Downloads.
Creating Podcast Website is not a Bad Idea
Website is a great way of Promoting your product, and if you haven't one yet, then go and create one, what are you waiting for? And there are many reasons you need to start a website dedicated to your podcast and some of them are obviously Podcast Promotion, appearance in search results, Better connectivity within your different channels, and Platforms, works as a Universal Link, Makes your show look more professional, Monetize your Audience, and much more.
For your inspiration, look at this American Life Podcast website that alone gets around 1 million monthly visits.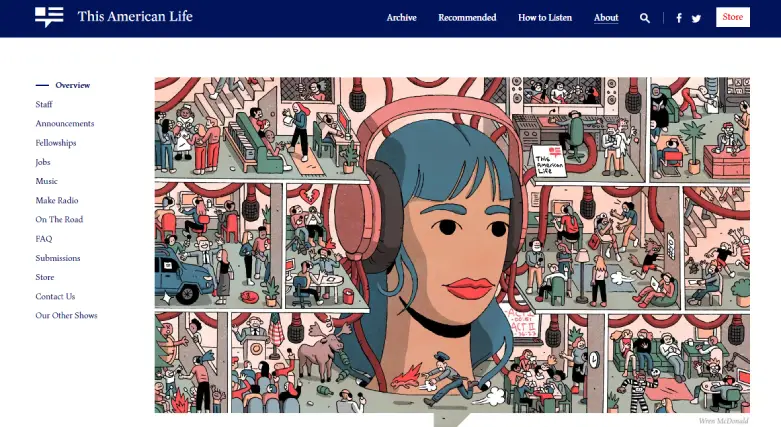 Basically on your website, you can showcase things you are doing. You can create a dedicated landing page about what your Podcast is all about, what the goals are, and so. You can also preview all your shows on your home page in chronological order making it easy to navigate, You can also sooner or later sell Merch or any other things on your website, making it one of the first things to do when launching a Podcast.
Imagine the potential of a website. And for creating a website you either use Traditional Methods (Coding), or use a CMS like WordPress, and if it looks tough then just choose a good Podcast hosting (Captivate) that offers a Podcast Website with no additional cost.
One more thing, if you have created a website for your Podcast then you can easily collect emails from your listeners asking them to sign up for your Newsletter so that whenever you want to update them you can send an email informing them about your new Episode, or New Upcoming Events, or Any Gifts for them and so.
One last thing,
If you are tired of all these traditional methods then you can simply go after podcast promotion services, which are basically a team working on your behalf, from providing you right strategies and tips to doing all the marketing efforts to help grow your podcast. But this requires cash, too much cash usually more than $1,000 per month.
And if you have, then you can simply go with any of the popular and trusted services out there like Fame, Beacon Digital, and Pacific Content.
This is finally over, but still, there are some questions about podcasting that needs to be answered like How to make money with Podcasting, and what are the benefits of starting a podcast, and so, which I cover in the upcoming articles, but for now, you can explore other website articles (link provided above) to know more about podcasting.