Ready to Start a Podcast, and Worried about where to host all your media files (and searching for "best Podcast Hosting Platforms" or thinking of hosting on your Website Hosting Server), NO-NO-NO doesn't do that, I have the solution.
You don't need to host your Podcast's media files on the same hosting where your website is hosted, that's because these audio files are larger and use lots of resources causing slow response time, and sometimes your hosting might go down.
some of you like, What the hell "I have AWS". It's Okay but still, you need to avoid hosting your audio files there.
So, what to do next?
Well, you need to consider hosting your Podcasts Audio files on dedicated Podcast Hosting Platforms, and why you need it is very simple, These hostings are specially designed to host your Podcasts, Provide dedicated tools to manage all your files, Specialize in storing and delivering large media files, Also provide Podcasts specific features for boosting user experience and keep you tension free form any Playback Issues or File Safety.
So, Now you know why you need Podcast Hosting Platforms.
Let's get straight to the point.
5 best Podcast Hosting Platforms
But before we go to the list, let's break down the key features to look into a Podcast Hosting Platform.
You might find some great Podcast Hosting Platforms but you need to make sure that all the required features are available or not. You also need to underline what's your requirement because sometimes you might be tricked and chances are high that you are paying for features that you barely need or not at all (That's your choice). But these are the prime factors to consider when looking for Podcast Hosting.
Key Features to Look into a Podcast Hosting Platform
#Storage: Storage is something you need to consider because it affects the pricing. So, select wisely. If you are frequently uploading or coming up with longer ones then you need hosting with more storage (Like Captivate which includes Unlimited Storage/Uploads).
#Analytics: Analytics is what you gonna depend upon to create better Podcasts. Different hosting comes with different analytics features but look for what you need like No. of Subscribers & Downloads, Listeners' Demographics, Episode Performance, and so on.
#Ease-of-Use: It is not necessary until you are a complete beginner and if so, then you need to find one that is easy to use with a good learning Curve.
#Monetization: If Podcasting is your go-to profession then you need to monetize it. For doing so you need to choose a host with decent monetization options like Paid Memberships, Ad insertion, Sponsorships, and so on.
#Pricing: The deciding Factor. The Features above may affect the pricing or the Pricing may affect the features. Look what you need and go for it.
Now you are able to decide which Podcast hosting is right for you.
Now, look at what we have selected, because these are the best among all that we have tried.
Let's come up with our first Podcast hosting Platform…
1. BuzzSprout
Best Overall, with a very easy-to-use Interface
Buzzsprout ends up leading the Podcast Hosting field. As it is the easiest-to-use podcast hosting service(in my opinion) they attract beginner podcasters to get started with their platform spiking their userbase to over 100K users and still growing.
Despite being the easiest it is also one of the most advanced Podcast hosting providers with lots of essential features which you can't find anywhere else. Started way back in 2009 Buzzsprout tends to be a popular choice among top podcasters around. So, If you are just getting started with Podcasting or looking for a new hosting you can consider Buzzsprout.
Just Record your Episode and Upload it to Buzzsprout, and see the magic happening from Distribution to Optimization to Promotion to Monetization, Buzzsprout will take care of the rest.
Features
Buzzsprout is all about its advanced features from User Analytics to Magic Mastering, that beats the competition and put it in the top spot.
Just Upload your media files and Buzzsprout will list your Episodes on all the top podcast directories including Spotify, Apple Podcasts, Stitcher, Google Podcast, iHeartRadio, and more.
Its Advances User Stats will blow your mind like Downloads, No. of Plays, Top Episodes, Countries from where users listen, Top devices used to listen, which are the top Apps where it got played, and a lot more which makes it easy to understand your audience and create better content.
Its Magic Mastering feature is so cool that you need to pay extra to use it even if you purchase its highest plan. It automatically sweetens your audio files to match the industry's best Practices.
Buzzsprout automatically optimizes your episodes including Filetypes, Bitrates, or ID3 tags. Just Upload and leave.
It also got a beautiful Podcast Player for your website named Buzzcast that adds a stunning podcast player to your podcast using a code snippet.
You can also promote your podcast to social media by creating short video clips using sound clips from your episodes with its visual soundbite feature.
Buzzsprout also lets you make money from your episodes with its Affiliate Marketplace features with Zero commission to Buzzsprout.
Pricing
Buzzsprout comes up with three Premium plans with one Free Plan that lets you upload 2 hrs of content each month with each episode hosted for just 90 days. You will get its Advanced Analytics feature and can add unlimited Team members.
Its premium plan comes with a basic price range of $12, $18, and $24 per month with 3hrs, 6hrs, and 12 hrs of content upload each month. If you need to upload extra content it is also available at $4, $3, and $2 per month respectively.
2. Podbean
Competitive Features with Unlimited Storage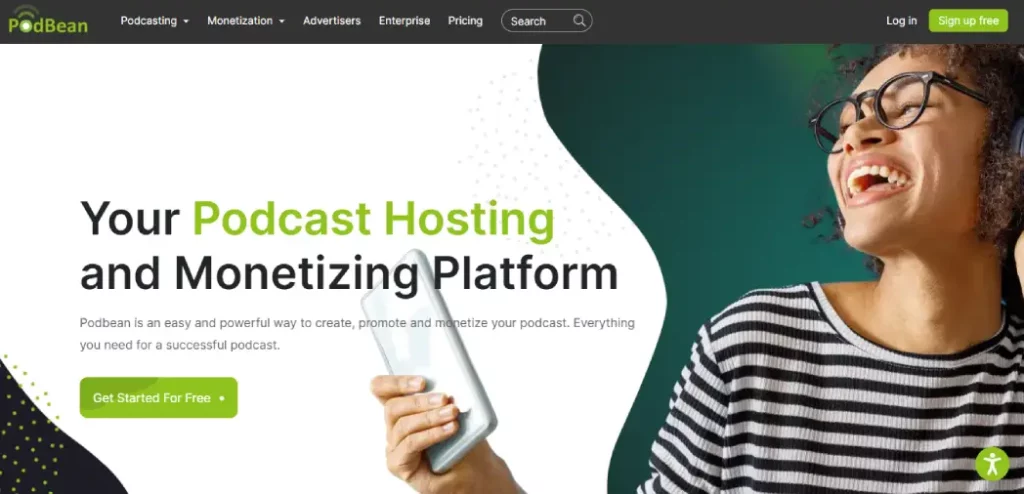 Another Dominant player in Podcast Hosting, Podbean is also one of the top choices among podcasters for various different reasons. Some of them include Cloud Backup, Unlimited Hosting, Email Integration, Monetization Options, and a cool Live Streaming feature where you can invite guests from all over the world.
Just like Buzzsprout, Podbean also comes up with competitive features and easy-to-use tools and that's why Podbean is trusted by some of the top websites including The Daily Telegraph.
You can say it is a one-stop platform for everything related to Podcasting including Recording, Hosting, Distributing, Monetizing, or Managing, all from one place either from the desktop or its Android or iOS App.
Features
Podbean comes up with quite more features than Buzzsprout which includes Live Streaming, and Podbean App but also steps back from Buzzsprouts Magic Mastering.
Podbean features are divided into six pillars including Publishing, promotion, Statistics, Monetization, Live Streaming, and Podcast Studio App.
Its Publishing feature includes Unlimited Audio and Video Hosting, Professional Podcast Website, and Your Own Domain Integration, with a Cover Art Creator.
Podbean Promotion feature includes All apps Distribution, an Embedded Player to embed podcasts on your website, Auto Sharing on Social Media, Amazon Alexa Support (as soon as you publish it will be available to all Alexa devices), Podbean mobile App for both iOS & Android and Email Integration via Mailchimp.
Its Statistics feature is even cool that shows your Downloads & your Podcast Trends, Your Top 10 Episodes, your listener's geographies, User Agents that tell which Apps or devices users use to get your episode, and User Retention which let you know how attractive is your Podcast.
Podbeans monetization feature lets you monetize your content from various different methods including Advertising from Podbean Marketplace, Premium Podcast where you can create and sell Premium Podcast, and Partons for Podcastors (donation).
Its Live Streaming Feature is cool too, where you can interact live with your listeners, Invite Remote Co-hosts or guests to your Live Stream, and you can sell virtual tickets to receive virtual gifts which can be converted into US Dollars and can be cashed out.
And Last, podbean's Podcast Studio App where you can do everything like Podcast Recording, Music Integration, Editing Podcasts,
Collaboration with Co-hosts from anywhere in the world, and can engage with your Audience just like Comments and Followups.
Pricing
Podbean Pricing is just simple with no limits to what it offers. Starting from just $9 per month to $79 per month also comes with a Forever Free Plan with storage space of 5 hours and 100GB of Bandwidth.
It comes with three Premium Plans Unlimited Audio, Unlimited Plus, and Network for $9, $29, and $79 per month respectively where all the plans include Unlimited Storage and Unmetered Bandwidth with 3TB bandwidth per month for Network Plan. You can learn more about its Pricing Podbean.
3. Captivate
Best for Professional Podcasters
Captivate has Launched just a couple of years ago and gained so much traction that leads to makes it one of the most popular podcast hosting services. Captivate focuses mainly on growing your Audience as its feature revolves around it. Its Promotional and Marketing tools are kind of mind-blowing.
Not only Captivate's Marketing features are awesome, but its User interface is also very clean which makes it easy for beginners to come across it, and as it walks you through the whole process of creating and uploading your first episode it tends to be a better choice if you are a complete non-techy.
Even after it comes with awesome marketing features it lacks some features like No recording Capabilities and No inbuilt Monetization Options. But it still sets the industry standard.
Features
With Powerful Marketing and Promotional tools, you also don't need to worry about storage space. Just like these take a look at its awesome features.
On Captivate you can upload an unlimited number of podcasts with unlimited Storage without any extra fee even if you are in its basic plan.
Just like others Captivate also lists your podcasts automatically to all major podcasting Apps.
You will get access to Captivate Growth Labs where you will learn how to grow, Promote and earn with your Podcasts.
Just Like Buzzsprout, captivate also gives you detailed Analytics about your listeners and your Podcasts, including Geographics, Apps used to listen, Episode Performance, Trend Analysis, and many more.
With Captivate you are able to add Unlimited team members with customizable team roles.
With Captivate you can also create and host Private Podcast (for your premium subscribers or for any other reason).
Just like others Captivate also has a Podcast player that can be easily embedded into a website.
With Captivate hosting you will also get a really cool website (where you can use your own custom domain) that you can use to promote your podcast and if you have a WordPress website you can choose to use its Captivate Sync WordPress Plugin.
Captivate also makes your Episode Promotion easier with its features like a Call to Action Button, Attributable link shorteners, Email Marketing integration, and Sponsor Pitch Creation.
Captivate Features are really useful and Powerful. It is a combined Podcast hosting and Management tool. You can read more about its features on Captive.fm
Pricing
Pricing is just Straight forward, No matter which plans you choose to go with you will get Unlimited Podcasts, Unlimited Storage, Unlimited Team Members, and all the features but this is a catch because you will get all those benefits in exchange for monthly download limits.
Literally, Captivate Pricing depends on the Number of Downloads, For instance, Its Personal Plan costs €17 per month with 30,000 downloads/month means if it gets over you need to pay extra. As same, its Professional Plan costs €44 per month and its Business Plan costs €90 per month with 150,000 & 300,000 downloads/month respectively.
4. Transistor
Transistor.fm is one of the fastest-growing podcast hosting platforms & also one of our favorites. It is a Podcast Publishing and management platform where you can create unlimited podcasts or RSS Feeds from one single account, also let you view detailed insights, and you can manage all your media players and Podcast site from one single dashboard.
It's competitive, Look, every hosting we recommend here is somehow a good place to start for an absolute beginner, and that's what Transistor also does. Transistor provides a very simple-to-use interface with very clear-cut tools and super-detailed analytics software. You can create private or members-only podcasts, create a podcast site, Embedded podcast players, and can create unlimited shows with no extra cost (and just in a matter of time).
Transistor is built for growth, as it has all the features you need to grow your audience and that's why it hosts some of the popular Podcasts including Drift and HoneyBadger.
So let's take a look at the features that you wanna Stick with,
Features
With Transistor you can submit your podcast to all the Directories like Apple Podcast and Spotify, and can also submit to Podcast Search Engines like Listen Notes and The Podcast Index with just 1 click.
Despite distributing your podcast only to podcast directories, Transistor also auto-posts your Podcast to youtube by converting your Audio files into Video files with a Background image.
In Transistor, you can host multiple podcasts with unlimited shows without any extra cost.
Transistor also offers Dynamic Ad Insertion to your Podcast (like, you can add Pre-roll, Mid-roll, and Post-roll Audio clips to your Podcast) and you can also show Dynamic Notes to each episode.
Transistor also has a cool Embeddable Podcast Player that lets you insert Podcasts in your website in a variety of ways (like Multi episode Player, Single episode Player, or Recent episode Player)
It also comes with a huge integration list. For instance, Transistor integrates with MailChimp, Drip, HubSpot, ConvertKit, MailerLite, ActiveCampaign, and Klaviyo for email subscriptions. It also integrates with Twitter and YouTube for auto-posting. For automation, it integrates with Zapier and Make. And for recording and editing, Transistor has integrations with Descript and Riverside.fm
You can also add Unlimited Team Members to your Podcast on Transistor with four different types of User Roles, Owner(which is obviously You, Only One), Admins, Members, and Analytics users (Read More about Roles).
Transistor comes with one of the Industry's best Analytics Tools. Other than the normal analytics like the Number of Downloads, Subscribers, or Popular Apps, You can compare your Episodes, See listener Devices & Operating Systems, Super Detailed Listener's Geolocation, and a video overview of your Transistor Analytics (released in 2021).
In last, Transistor comes with a Podcast website builder where you can create a Home page, A landing page for each and every episode with a Listen on Button, automatically linking to all the Podcast Apps.
If you are a beginner or a big company with different or multiple episodes or wanna simple to use with rich in features and have Industry's best Podcast Analytics tool, You can consider Transistor.
But first, Take a look at its Pricing model.
Pricing
Transistor has 3 pricing plans named Starter, Professional, and Business which costs $19, $49, and $99 per month respectively with all the notable features but Dynamic-Ad insertion, Dynamic Show Notes, and Auto Post on Youtube are missing in the Starter Plan. And for removing Transistor Branding from the Player you need to subscribe to the Business Plan.
It seems Transistor is charging too much because you get all the same features with every plan and here Transistor gets Tricky, Its pricing is based on the number of Downloads (20,000, 100,000, & 250,000 monthly downloads), and Private Podcast Subscribers (50, 500, & 3000 subscribers). If any of these two exceeds the limit you need to upgrade.
5. Libsyn
A one-stop solution for podcasting with a wide range of features and a variety of powerful tools, Libsyn came to be a popular choice for both beginners and seasoned Podcasters alike. From recording to distributing to Monetizing (aka, from starting to growing to running a Successful Podcast) everything is simplified with Libsyn.
Libsyn is always among the top choice for Podcast hosting, even in 2023, and there are several reasons for that. Started way back in 2004, and came a long way in this field and that's what it also brings to us as it supports various file types including Audio, video, PDF, and Text, Supports integrations for over 20 platforms including Facebook, and WordPress, With Multiple Monetization options, Advanced Marketing tools, and a custom iOS & Android apps, it has everything to skyrocket your Podcast.
It is said that it is one of the oldest Podcast Hosting platforms in the market with over 75,000 podcasts and still growing. But just in case you think that the interface is not good or it seems quite techy, then you are wrong, it is so straightforward that a beginner can easily figure it out.
So, Without more Bragging,
Let's take a look at what Libsyn has for you.
Features
Ease of Use is one of the biggest Advantages of Libsyn and as I above mentioned, It's so easy to use that an absolute beginner can easily figure it out.
Getting started with Libsyn is also a piece of cake, as it has a built-in podcast recording studio, with royalty-free music, Automatic Audio enhancement, and much more for getting started.
With Libsyn distribution is just a click away. Libsyn's Streamlined distribution process can get your podcast to all directories in no time (also to apps like Gaana, Deezer, and JioSaavan.
Libsyn gives you the freedom to host both Audio and Video podcasts.
Its advanced analytics kill, as it provides Accurate IAB tech lab verified stats, with advanced stats and insights to help you understand your audience and their interests.
Libsyn also has powerful marketing tools to grow your audience. For instance, you can schedule your podcast episode posts for Social Media Platforms like Twitter and LinkedIn.
You will get a Free custom Podcast player with every plan for either Audio or Video which can be customized to match your Brand.
With Libsyn you also get a custom podcast website with custom colors, Google fonts, easy share buttons, and a persistent player, so you never move a step back.
Libsyn takes it to a next level by providing the facility to create your own Android or iOS app for your Podcasts.
Libsyn offers diversified Monetization options. One is just like others, Advertisements which you can integrate between your podcasts, that can be found on Libsyn AdvertiseCast Marketplace, and another one is Libsyn Glow which is basically Podcast Subscription where you can create members-only content (Laeran more about monetization options on Libsyn).
Pricing
As you know it is one of the oldest Podcast hosting platforms with lots of features and Avdance options it also takes care of its users by providing them with a wide range of pricing plans. Whether you are a newbie thinking of starting a podcast or a professional, looking for more space and some advanced tools, Libsyn has plans for everyone ranging from $5/month to $150/month.
Basically, Libsyn has 6 pricing plans that cost $5, $15, $20, $40, $74, & $150 per month respectively with almost the same features advancing in the higher plans with the main difference in Upload hrs and monthly storage. For instance, in the lower plan, you see an upload limit of 3 hrs with monthly storage of just 162 MB whereas, in the highest plan, you will get new 55 hrs of storage with 3000 MB of monthly storage. Learn more about its Pricing.
This is Sad and Bad that Libsyn doesn't offer any Free Trial or Free Version, which means if you want to go with it you need to purchase it and yeah the $5 plan is best for testing it out.