Designing Websites are never been so easy, and it's going all way easier and easier day by day. In mention, you may know about some popular website builders like Wix, WordPress, Squarespace, and so. But Carrd takes it a step simpler than others.
And you can use it for creating one-page websites like Landing Pages, Sales Pages, Portfolios, Events, and so on. You read it right, Carrd can only be used for creating one-page websites, aka Landing pages, that's it. If you wanna create a whole multifunctional site then you need to go with some other website Builders like Wix and Squarespace.
So, if you are a Freelancer, Entrepreneur, or anyone seeking a simple-to-use, Easy to navigate, and Free Website Builder for showcasing your Project, or any upcoming Events, you can choose Carrd as your next One-Page site builder.
But Carrd still has some important features missing like A/B Testing and CMS integration. so in my opinion, if you want to create a simple one-page site then Carrd is the best solution for you, but if you are seriously serious and want some more robust and powerful features then you need to go with Landing Page Builders like Unbounce and Instapage.
But for now, I am going to review this One-Page site builder and try to find how good or bad it can be.
So, let's begin.
The Verdict
Simple, Fast, and Easy to Use with a very Minimalistic Design, Carrd can be used to create almost any type of one-page site including Landing Pages, Portfolios, and so, packed with powerful features and integrations like Google Analytics, Mailchimp, and Paypal. And yeah, you can publish sites to any custom Domain Name without any Carrd Branding.
You may set your mind on choosing Carrd for your next project or not, but wait, first read what it offers then choose whether it's the right fit for you or not.
So, in this Carrd review, we are going to take a detailed look at the following points
Let's start with its Overview.
An Overview of Carrd
Till now, you definitely knew that Carrd is a One-Page site builder that can be used to create almost any type of site, like a page for your next event where users can book seats online, or any Landing with the goal of capturing Emails from the users, and so on.
As you enter the website you can start creating pages without even signing up, just click on the "Choose a Starting Point" button and it will take you to the template pages, where you can choose from dozens of templates and once you select one, it will open the builder with all the useful instructions and after your desired edit, BOOM, your page is ready to publish. simple right?
Once you complete your page design then you can create your free account to publish your page. Once you create your account you can also opt-in for its Free Trial which is enough to test it out. Inside its dashboard, you have all the normal options and all the sites you have created. That's it.
Now, look at the features Carrd offers.
Features of Carrd
Carrd features are pretty awesome (like QR code, Access Sharing, and Password Protection) but still missing some important features like A/B Testing, Live Chat Support, CMS Integration, and Action Triggers to name some.
But never mind, take a look at what it offers,
Custom Domain Name
You can publish your site to any custom domains you own with full SSL support via Let's Encrypt.
Carrd Templates
Its template collection is awesome with over 150+ templates divided into five categories (Profile, Landing, Form, Portfolio, and Sectioned). Some of them are Free and some are for Pro users. You can also choose to start with a Blank Canvas.
Media Uploads
Media includes images, videos, infographics, Gifs, and so, and Carrd got everything covered. You can upload Large and more High-Quality images (up to 16 MB) and videos (up to 32 MB) with perfection and use them throughout the site like Slideshows, Backgrounds, heroes, and so without any number limits.
Animation Effects
Look, this feature is pretty basic in Carrd but noteworthy. You can add animation to each and every single element by selecting the elements and going to the animation tab. You only have 3 options to configure Duration, Intensity, and Delay with 16 different animation effects. That's it, you have done all the animation.
Widgets & Embedds
For making Carrd more functional, it provides support for third-party services like PayPal, and Typeform and it is useful.
For example, if you want to collect payments or simply add a survey to your site, then how would you do that, these are not carrd core features, so here comes its widget features which basically allow you to add widgets from other third-party services including Paypal, Facebook, Stripe, Gumroad, and Typeform.
But wait, if you want some extra features to your website, which is not yet supported by its widget element, then you can insert your own custom HTML, CSS, and even JS code anywhere on the site, and here's how to add the codes.
You can read more on how to add these widgets to your site in detail in the carrd Documentation, and yeah its documentation is very-very useful, especially if you are a beginner.
Google Analytics
Never mind, if you want to get better results with your landing page or want to know more about your visitors, you need to track them, and the world's best tool for tracking your visitors is Google Analytics.
And yeah, In Carrd you have the option to add a Google Analytics tracking ID to each of your sites and report traffic.
Password Protection
Password Protection is something not so necessary but still, it can be useful if you have a no. of websites or some premium content that you only let some premium users see, then it might be useful.
Sharing & Site Transfers
This is something really useful if you are making websites for your clients.
Carrd gives you the facility to share access to your sites with other Carrd users. For instance, if you are working as a team and you want to let another member of your team check how well you have done the job, and if something is left behind they will fix it up by editing the site.
And you can also transfer your site ownership to other Carrd users. But the catch here is, if you are a Carrd PRO user, then the other account also needs to be of equal or higher plan, because if you use Form element then to appear that form element on the site after transferring requires a PRO subscription.
Advanced Forms
This is what you need if your primary goal is lead generation. In Carrd you can able to create fully functional Contact and Signup forms for your site using various Email Marketing tools like Sendinblue, Mailchimp, Convertkit, and many others.
Along with the Contact and Signup Forms, you can also build entirely custom forms that can integrate with Zapier, Make, or Airtable, and can also incorporate Payments via Stripe Checkout.
Advanced Settings
This is not something to mention, but If you are a developer then you will love the features that come under Advanced Settings.
Assign fixed element IDs in place of automatically generated IDs
Set custom HTML attributes
Assign custom classes
Apply custom CSS properties to elements and, where applicable, subcomponents of elements
Trigger custom JS code when certain events occur
It's not the end of Carrd Features, instead, Carrd has a lot more than that, but those are not something that needed to be explained like, Slideshows, Redirects, Local Fonts, and so.
But after using it I have figured out some underrated & Cool Features that are somehow not clearly mention but really useful and sophisticated.
just like,
Carrd Editor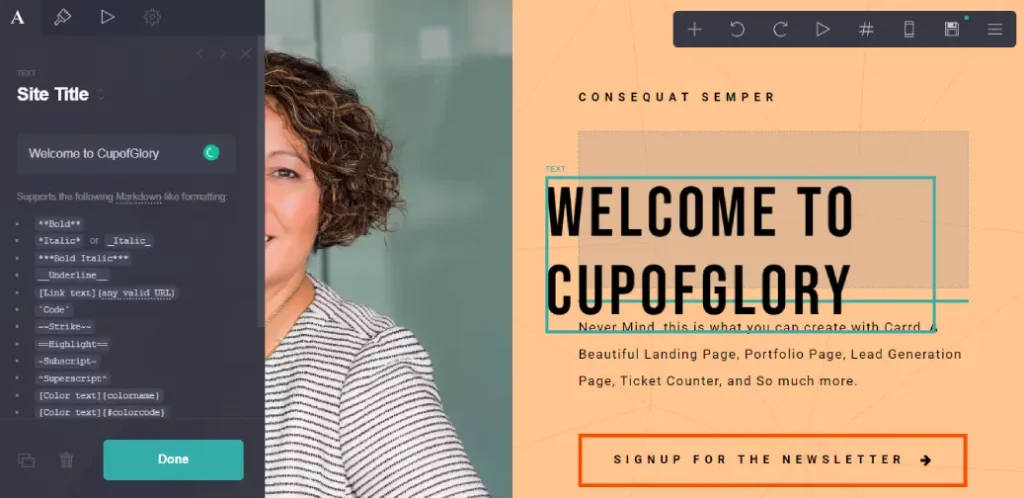 Yeah, it's got a Drag-and-Drop Editor, which is basically like a low-end version of Elementor, but it's cool.
As you first click on Create New Site, it welcomes you with handy instructions on all of its global buttons like Publish, Mobile View, and Add an Element button. Once you got its instructions it will take you to the editor where you can Add an Element by clicking on the Plus Icon, and then, if you needed you can rearrange the elements by Drag-and-Drop.
This is Cool,
And, you have also an option to change the elements for the mobile view by selecting the elements and going to the Appearance button.
Now you are all set.
And,
Carrd SEO Features
SEO is important for anything to rank on Search Engines. So, how do you exactly Optimize your site for SEO in this One-page site builder, so carrd offers a little but vital SEO features to optimize like Custom Domain Names, Google Analytics ID, Custom Meta Tags, Local Fonts, and customization for various Site Files including Robots.txt and Ads.txt, and Canonical URL.
You might not know that these are also Google Ranking Factors but don't worry, you are not alone, Go and read this article by Brian Dean "Google's 200 Ranking Factors".
Carrd Pricing
Carrd Comes with three Plans, Pro Lite, Pro Standard, and Pro Plus which costs $9, $19, and $49 per year. But the Carrd developer has some unique idea to retain every customer, and so they create various sub Plans inside every main plan, and you can see all different pricing by clicking on the arrow next to the Plan Name.
All the different pricing increases the number of sites you can create on each plan, and all the features are the same as the base plan.
So, if you are not so obsessed with one-page sites you can go with it Pro Lite Plan, with all the basic features they are enough to get started if you don't expect some great results from your landing page.
But if you need to collect user names and emails, or want user statistics then the Pro Standard Plan is your best friend.
And yeah in my opinion its Pro Plus plan is not so useful at all, because if you are going to create a publicly available and fully functional website, then its Pro Standard Plan is best.
But Wait,
If you don't want to pay anything then Carrd also offers a Free Plan to test its potential. But, in the Free Plan, you are restricted to a maximum of 3 websites with Carrd Branding, and all the websites are published on Carrd Subdomains.
But if you are not satisfied with its Free Plan then you can also opt-in for a Free 7-day Trial which gives you access to some of its premium features like Custom Domain Names, Pro Templates, Google Analytics, and so on.
Carrd Alternatives
Now you know almost everything about Carrd, but still, you might not be totally satisfied with it.
So, I have pulled out two of the best Carrd Alternatives that are worth checking out.
1. WIX Website Builder
Yeah, you read it right, A Website Builder, and it's totally fine because you can able to create sites in minutes for free with almost all the same features that are offered by Carrd.
Wix comes with a better Drag-and-Drop builder with more control over design and customization that ends up making a Flexible website with multiple pages.
It is great for small websites and if you want to test it out you can get started for Free.
And,
2. SQUARESPACE
It is also a website builder, that is mostly known for its inspiring Templates, and website designs. Everything is so smooth and straightforward in Squarespace that you will fall in love if you don't want to mess with some technical stuff.
But the main concern is it doesn't have any Free Plan, instead just after signing up, you will opt-in for a 14-day Trial of Squarespace to test it out.
It can be a good option for personal websites but if you are on a tight budget then Squarespace will not be the best option for you because it's too costly (starting at $16/mo).
Weebly can be a great choice because it offers a Free Plan, with lots of useful options like SEO features and eCommerce support.
These are Website Builders, but you also have great options as a Landing Page builder if you want to compare Carrd, which you can check out in my latest article on Best Landing Page Builders.
Conclusion
In my word- If you are looking for a Free, cheap, Feature Rich, Easy to Use, and Simple one-page Site Builder, then Carrd is the best option for you.
And, If you don't wanna pay to create Landing Pages, you can stick around Carrd because it offers competitive features with lots of advanced options and Integrations at a very minimal cost.
But there are also some limitations with these types of One-Page Site builders and one of them is Keyword Ranking (yeah, how do you do that). You may disagree because these types of sites are made around a single theme for a limited time, and once the goal is completed, You can Chill.